General
Standard Auction
Mobile Enhanced Auction
Preparation
Running any auction can be daunting. The key to staying in control is preparation. The following are a few helpful tidbits.
BIDS Setup
This is the easy one. Start this about 1-2 months before the auction. Here is your list:
Once you have your data entered, BIDS is ready to support your auction.
Pro Tip! Have auction helpers meet the week before to train on the auction processes (e.g. checkin, bid and donation entry, checkout and pickup). Also discuss fallback plans for answering guest questions / concerns.
Guest Name Badges
Print the guest name badges from the "Reports" tab. Here is an example: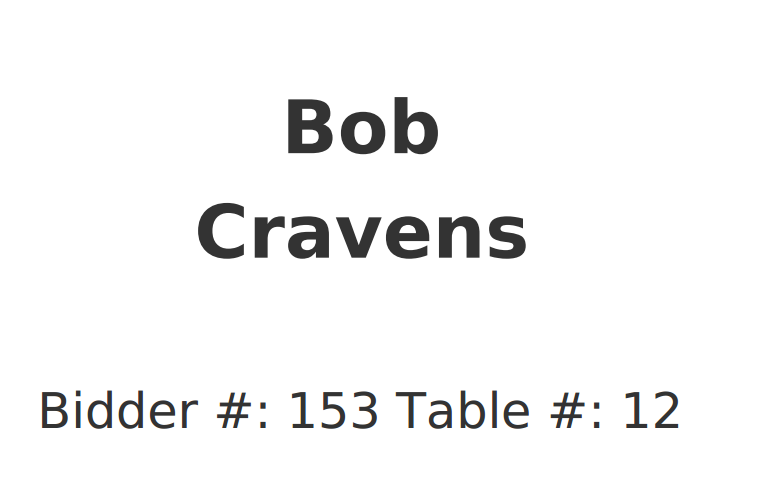 These are sized to fit into the standard name badge holders you will find at the office supply store. Alphabetically organize these on a few tables that are available just before the checkin stations. All guests should wear these badges. Helpers will quickly know their name and bidder number. This makes checkin and checkout much easier.
Guest Table Setup
By assigning guests tables, you can place all auction material (evening's schedule, auction items description, large bidder card...) at the guest's table. This makes the checkin process simpler as the guest doesn't need to collect those things. Here is an example large bidder card (usually printed 8.5x11 card stock / 2 per page):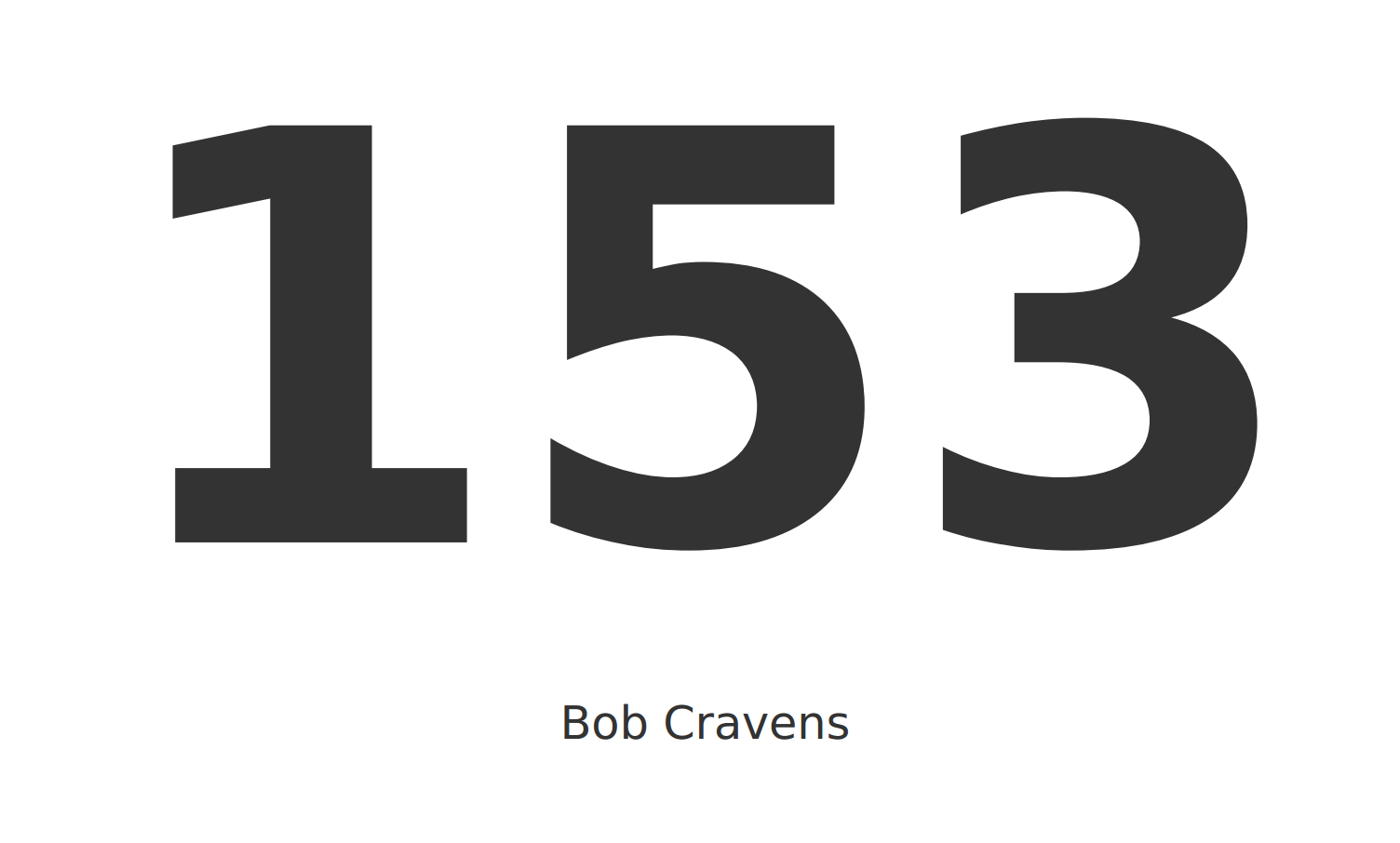 Silent Auction Tables
BIDS provides a number of helpful report for you to use for each item at the silent auction tables. Let's take a look at them here. The first is the silent auction bid sheet (fake item name and description):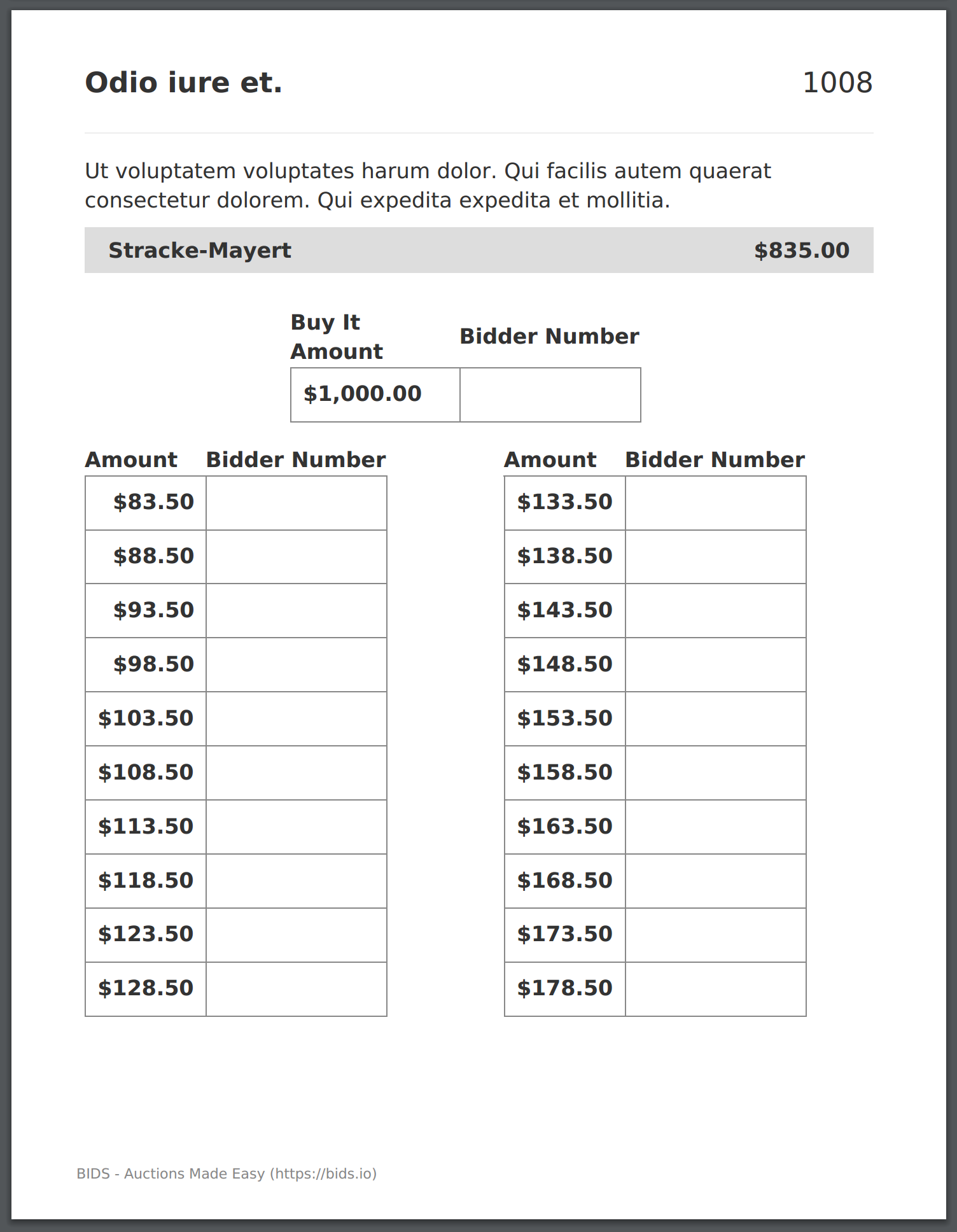 This example shows how the "Buy It Amount" is displayed (if configured for the item). It also shows the standard silent auction bid squares where guests can out bid each other. The number of square and the but it now amount are configured during the item setup.
"Tent cards" can also be printed for each item. These are printed 4 per 8.5x11 sheet of card stock paper. Here is an example of a single tent card (ready to be folded down the middle line): Bid sheets are collected by helper when the item group is closed. These sheets are used to enter the winning bids into BIDS. The tent cards should remain with the items. The tent cards help clarify which item is being picked up.
There may also be live auction items and activities where bids / donations are done as guests raise their large bidding card. These can be recorded on the following general ledger: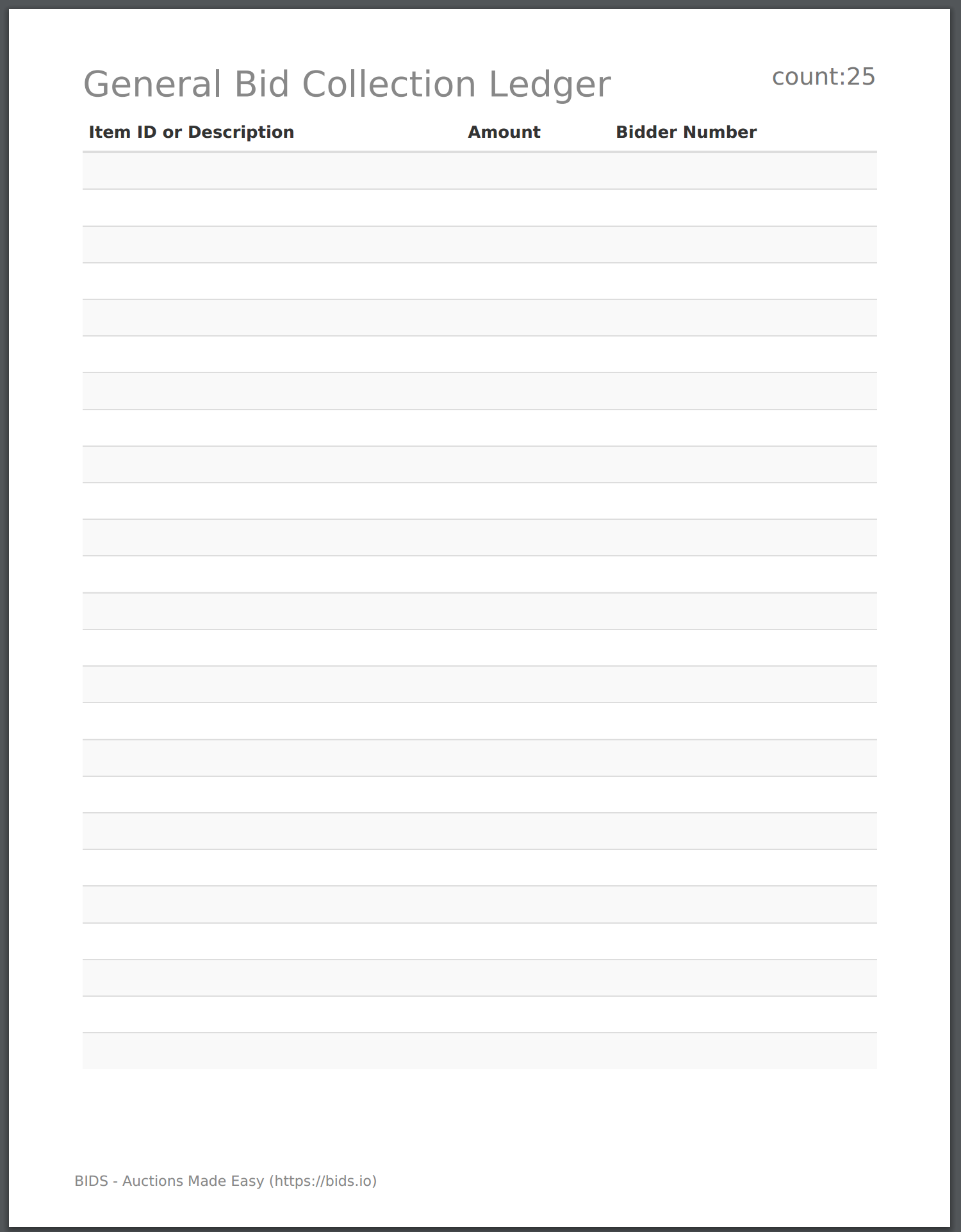 Auction Schedule of Events
When creating the schedule of events for the auction keep in mind the following:
NO GUEST CAN CHECKOUT UNTIL ALL PLEDGES AND DONATIONS ARE ENTERED
This is emphasized so you consider when the last donations and bids are entered. Having an activity where a lot of guests make donations is super awesome. These should be recorded on the general ledger. The important thing to remember is that it takes time to enter these into BIDS. The best method is to divide the sheets amongst multiple helpers. But still plan to leave them time to do this accurately.